If you are wanting driving lessons in Chiswick, this is all the information that you need to help you to pass your driving test.
The driving test lasts for about 38-40 minutes. Half of that time will involve the driving test examiner giving you instructions on a turn by turn basis. The other half is called independent driving. On most test this will involve following instructions from a satnav. However for one test out of every five the independent driving  involves following road signs towards a particular destination. – for instance the examiner will say "follow the road signs to Chiswick until I tell you otherwise"
Arriving for your driving test
You will need to turn up at the test centre about 10 minutes before your test time and wait in the waiting room. The examiner will ask to see your provisional licence and will ask you to sign the insurance and residency declaration. They will then ask if you want your accompanying driver/instructor to accompany you on the test or if you want them to be present for the debrief at the end. As you walk out of the waiting room with the examiner they will introduce themselves to you. They will then take you to a suitable place to read a number plate 20 metres away before getting to your car. At your car they will ask you the "tell me" vehicle question.
During the test you will normally also be asked to pull up several times at the side of the road on the left. One of these will usually be on a hill (hill start) and one time close to another car (angled start). You may also be asked to do a controlled stop (commonly called the emergency stop). One test out of every three involves an emergency stop so you may find that you don't need to do one on your test. During the test you will be asked one "show me" question. For instance to open the window or switch on the headlights on the move.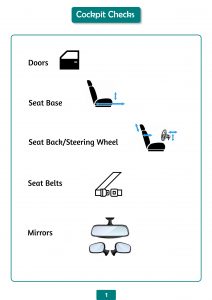 In addition you will normally be asked to do one manoeuvre involving reversing – either
pull up on the right, reverse for two car lengths, pull away again
drive forward into a parking bay and reverse out
reverse park (either into a car parking bay at the test centre or by pulling up alongside another car in the road and reversing into a space)
At the end of the test you will be told whether you have passed. If you have passed the examiner will offer to send off for your new licence for you (he will then keep your provisional licence) and give you your pass certificate.
Nearest test centres for Chiswick are at Greenford –
96 Horsenden Lane North
Greenford
Greater London
UB6 7QH